Dr. Piercing Aftercare Sensitive Skin Swabs
Regular price

Sale price

$19.99
Proprietary sensitive skin formula –

Dr. Piercing Aftercare Sensitive Skin Swabs go beyond simple cleaning to help soothe and protect extra-sensitive skin.

 
Quick, no-mess application -

 Simply hold the swab vertically, find the blue line on the swab, snap the top, and the medication flows to the opposite cotton tip, allowing you to gently and precisely clean ear piercings, nose piercings, belly button piercings, and more.

Eases itching and redness –

 Our saline-based solution also contains pro-vitamin B5 and aloe vera to help calm the raw, sensitive skin in and around your piercing.



Protects & thoroughly cleans –

Promotes your body's natural healing process to help speed up piercing recovery.
MADE in the USA -

 This product is proudly manufactured in the USA and lab-tested to the highest standards.  
A group of doctors and pharmacists formulated Dr. Piercing's Aftercare products exclusively for the care and cleaning of new piercings. Dr. Piercing's Aftercare is the only brand to offer piercing aftercare products with the combined power of a cleanser, a protectant, and a pain reliever, all in a saline-based solution.
The advanced technology of Dr. Piercing's swab applicator ensures sanitary, convenient treatment. Our medicated swabs are easy to use anytime, anywhere for thorough, safe, and soothing cleaning every time.
Proudly made and tested in a cGMP-compliant, FDA-registered facility in the USA, our sensitive skin swabs are conveniently packaged and designed using advanced technology. 
For best results and to help prevent infection, apply Dr. Piercing Aftercare Sensitive Skin Swabs to new piercings twice a day or as directed by a physician.
Available in 2 sizes:

2-pack (72 swabs) and 4-pack (144 swabs)

Cleans soothes and protects piercings

Helps prevent infection

Promotes the natural healing process
- Made in the USA
• For external use only
Share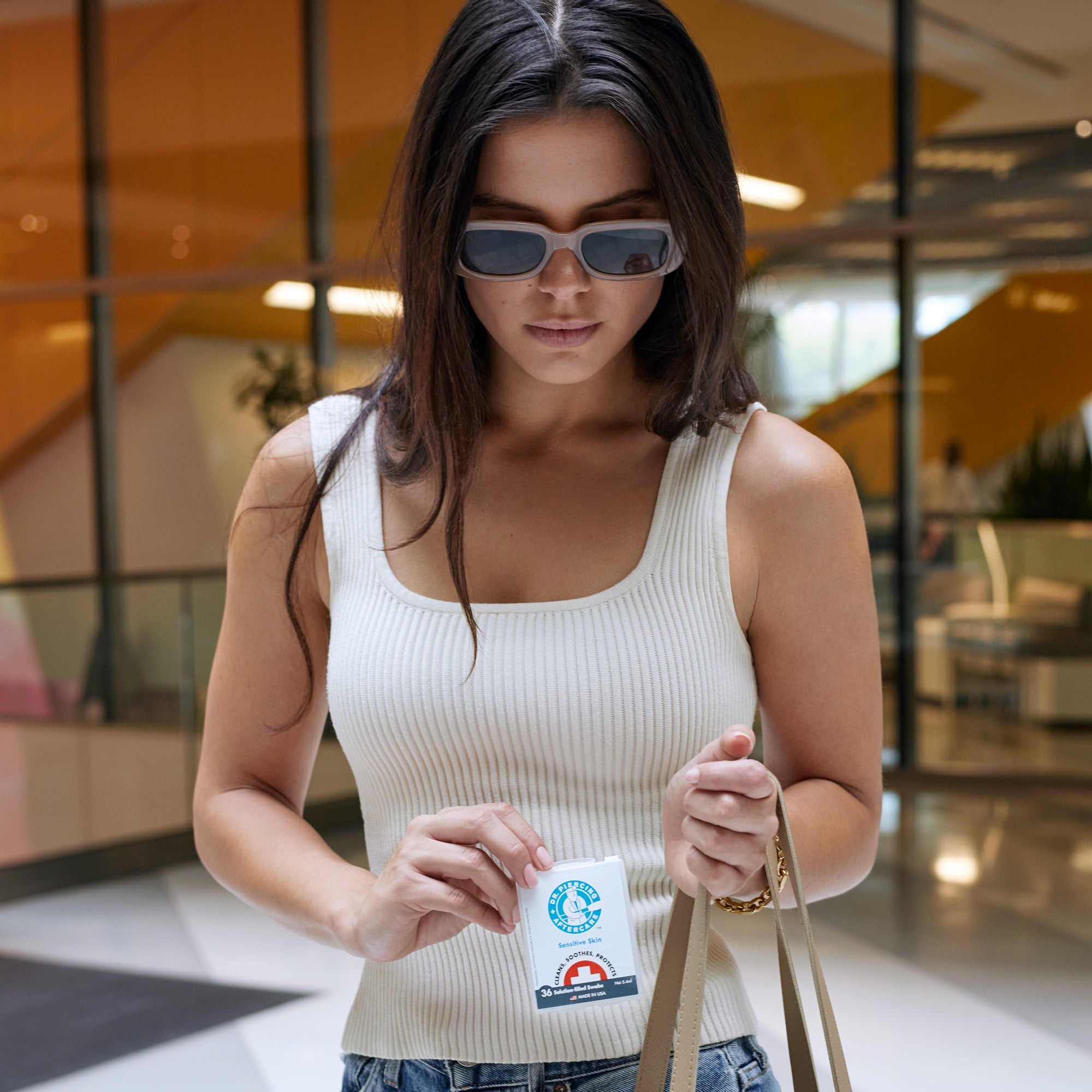 Guarantees
Have a question? Our team is here to help

Free Shipping on all orders
Developed by doctors and pharmacists
Proudly made and tested in a cGMP-compliant, FDA-registered facility in the USA.
"Easiest, most non-irritating, effective thing i have used"
"When i got my lip pierced i was just going to the store and get saline spray like i have for my nose x2 and my belly button. when the store was out i searched and found this and i love these things, so easy disposable and lasted me until it was healed. totally worth the price for the fact they are so portable since they are needed throughout the day."
FAQs
What ingredients are in Dr. Piercing Aftercare Sensitive Skin Swabs?

Each swab contains:

Aqua
CAPB
Tea
Kathon CG II
Isotonic saline solution (promotes natural healing)
Aloe vera (anti-inflammatory and promotes healing)
Allantoin (skin protectant)
Panthenol/ Pro-Vitamin B5 (regenerator)
Triethanolamine
Do your sensitive skin swabs contain fragrance?

No — our swabs are fragrance-free. They are also odor free
Can I use this on tattoos?

Dr Piercing Aftercare products are specifically designed to help heal body piercings.
Can these swabs be used for cartilage piercings?

Yes, our medicated swabs can be used for all external piercings.
Can this product be used on a navel piercing?

Dr. Piercing works on all external piercings. We do not recommend use on tongue or genitalia piercings.
Can I use this on a nipple piercing?

Absolutely! Simply use our medicated swabs as directed by your physician or piercer.
I have a bump on my Tragus piercing. Would this product help with that? If so, how long will it take?

Dr. Piercing Aftercare Sensitive Skin Swabs are designed to prevent infection and encourage healing. Many customers tell us the product has helped their piercing bumps disappear —but because each person heals at different rates, and responses to treatment vary, we can't guarantee results. If you're struggling with piercing bumps, we recommend trying our Piercing Bump and Keloid Treatment Drops.
Follow us for exclusive deals and exciting promos!